This week the Dutch minority government led by Mr. Mark Rutte fell apart because it could not agree on an austerity package worth 14 billion euros with the populist Freedom party of Mr. Geert Wilders on whose parliamentary support it depends.
In order to comply with the Maastricht treaty rule of limiting the budget deficit to 3% of GDP the Dutch government had to find 14 billion in cuts for the 2013 budget. This was totally unexpected and rather embarrassing in light of the continued lecturing by the same Dutch government of their Southern European colleagues on the very same subject earlier this year.
Mr. Geert Wilder's argument for withdrawing his parliamentary support for the minority government was that he cannot in good conscience agree to cuts that will result in an ordinary elderly Dutch person - the famous and fictitious Mr. Henk senior - having 500 euros less to spend in 2013.
Have you ever owed a debt? Then you will know that, as long as you owe a bank a single euro/dollar/yen/whatever, they
own
you. If you cannot pay the interest due, they inevitable show a legal contract, signed by you, entitling them to do a bunch of very unpleasant things backed by the full force of law.
The funny thing is that in the context of governments borrowing money it was somehow always presented the other way around. Investors, if they were really very well behaved and played nice, were granted the privilege to lend their money to the Dutch government. Why was this? I suppose the biggest reason was that lending money to Western governments in general and to the Dutch government in particular was perceived as being a very, very safe investment. I understand earlier this year the Dutch government secured a short term loan with a negative interest rate. this means investors, in this case banks, were paying money to have their money deposited in the coffers of the Dutch State. Now why would they do that? The answer is that in a very unsafe world, investors are all struggling to keep their money somewhere safe. Especially if you are a bank and do not trust other banks with your money.
It is this perception that governments are a very safe place to deposit your money that is in question in this crisis. This perception is formalized in the credit rating of a country. Presently the Netherlands is one of the few countries left in Europe with a triple-A status, the highest mark a country can get for being a safe place for your money.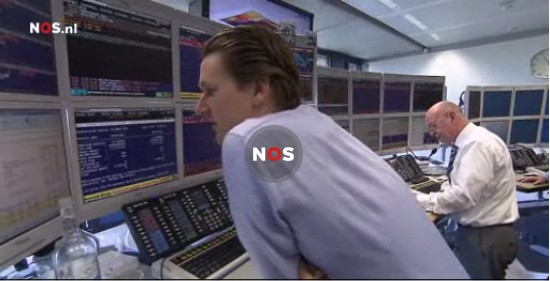 The auction room at the Ministry of Finance where loans are being secured by the Dutch government.
See the NOS TV item on the dsta (in Dutch)
.
Because of this perceived safe haven status the Dutch government can borrow money at a rate of 2.3%. Germany is currently perceived to be the safest place for your money, so it can borrow at a rate of 1.72%. Spain is thought to be less safe, and must pay 5.67%, not to mention Greece, which at some point last year faced a mind boggling 20% interest rate. Just for reference the USA can borrow presently at a rate of 1.99%, in dollars that is. Although a bunch of financial indicators are less favorable compared to The Netherlands and Germany. The reasons for this are complex and could be the subject of another blog entry but in essence it comes down to a simple fact: the USA are presently top dog in the world.
So to put all this in perspective some comparisons
The total Dutch outstanding debt is estimated at 407 billion euros. At a rate of 2.3% this means the Dutch government must pay some 9.4 billion euros interest each year. Were the Dutch government be perceived as safe as Germany this sum would be only 7 billion. On the other hand if the Dutch were in the same position as the Spanish, they would have to pay a whopping 23 billion euros interest a year. The really, really bad thing about all this is that perceptions can change very quickly. And everything depends on perception here.
Some more perspective
The entire Dutch defense budget is about 8 billion euros a year. Fact 1: getting rid of defense completely will not even help the Dutch in 2013 to stay within the 3% deficit norm, since 14 billion is needed for that. Fact 2: If the Dutch were deemed as safe as Germany, roughly a quarter of the entire Dutch defense budget could be paid for by the savings in interest payments alone. Fact 3: If the Dutch government were to have no debt whatsoever, they could fund the entire current Defense budget with the savings on interest payments. Easy, and have some spare change at that. Why do I bring up Defense in this context you ask? Well it is an historic fact that any country not attending to its defenses in the long run will get invaded/conquered/destroyed by someone who just simply can get away with it. If you do not like my Defense example, please realize the Dutch government's total spending on foreign aid amounts to 3.4 billion a year and do the math yourself.
Even more perspective
The Netherlands has roughly 16 million inhabitants. So the total debt per Dutchman is about: 25.000 euros. Yes, each and every Dutchman, woman and child owes roughly 25.000 euros and pays 588 euros interest per year. At German interest rates, every Dutchman would pay only 438 euro interest per year and at Spanish rates that would be 1438 euros per year.
The uptake of all this?
"There ain't no such thing as a free lunch" is an old American lesson which is finally being taught to governments in Europe. I suppose my biggest revelation while researching this issue is the realization that the relative standing of the Dutch government in the pecking order of financial trust is a big deal. Having to pay 9.4 billion a year (Netherlands now) versus 23 billion a year (Dutch debt at Spain's rates) dwarfs all political discussion and bickering about budget cuts. It also puts into perspective the real spending choices political parties have while owing so much money to others. Oh, and by the way you did get the fact that the Netherlands spends more money on paying interest on its debt than on defense, did you? Good, I thought you did.
PS in reality outstanding debt of the Netherlands is on average financed with seven year loans. This is done to insulate against short term interest fluctuations. So calculating the interest due on all outstanding debt based on the daily interest rate is a deliberate simplification on my part. It is really complicated stuff folks.
Now why would any government go to the trouble of borrowing money at such cost if they have the legal right to simply print the stuff? This will the the subject of a later blog entry, so stay tuned!