So I am very particular about watches. Not about the looks, mind you. No, I care about their prime function: keeping time. This preoccupation started when I received a Junghans Mega 1 as a birthday gift, back in 1990. This was the first radio controlled wrist watch in the world. It synced itself once a day using radio waves with a transmitter in Frankfurt Germany. This radio transmitter was hooked to an atomic clock. It does not get much more precise than that! Unfortunately it had a couple of downsides. The first being that you had to be within a 1200 km range of Frankfurt, Germany. I live in the Netherlands, so that was in range of the transmitter. But the very first summer I owned the watch I went on vaction to the Bahamas. Alas, that is definitely out of range. When that happens the watch behaves as a 'normal' digital watch, it simply does not sync itself with the atomic reference clock in Frankfurt, Germany. The second downside was more serious. The Mega 1 has a leather strap which incorporates the aerial for radio reception. I happen to perspire a lot. So after a year or so, the leather strap was worn out. I ended up replacing this strap once every year for a couple of years. The cost of this was prohibitive, so I quit wearing the watch.
After that I received another birthday gift in 1998. A Seiko Kinetic Titanium watch. Cool! No more batteries and very allergy and perspiration resistant. I lost the time syncing capability, that was too bad. Another - related - downside of this watch is that it does not have a perpetual calender. Every 30 day month I have to advance the calender one day manually. Not to mention leap years...
So already in 1998 I envisioned the 'Ultimate Watch': It syncs itself to an atomic reference clock anywhere on earth (the fact that it does not work in outer space is acceptable for the time being), it does not need a battery (by using solar or kinetic energy) and the strap is made of Titanium (no perspiration woes for me).
Too bad nobody could make a watch like this forever. Until I saw this March 2012 announcement: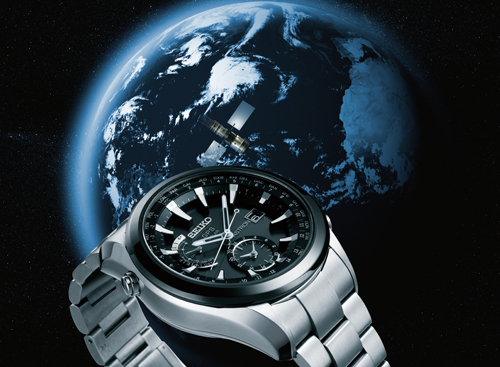 Meet the
Seiko Astron GPS solar
. Available in selected stores around the World from August 2012.
This wrist watch totally meets all of my requirements except for one. With a recommended consumer price of over 3000 euros it is prohibitively expensive. Oh well, I better start saving...
Once I really do own this watch I foresee another problem. I will need to go to Kathmandu, Nepal and find out if my watch really automatically syncs to official Nepal time, UTC+05:45. Yes that is 5 hours and 45 minutes ahead of Greenwich Mean Time.
On a side note
In the Junghans entry on Wikipedia it is mentioned that Junghans and Seiko are working together on a truly 'global' watch that knows about all the 39 official time zones on Earth. Aha...