Last Saturday evening Janne and I went to the Opera. Not inside, but ouside in the park at the Palace Soestdijk , The Netherlands. This was an open air performance of the opera Orfeo ed Euridice by Willibald von Gluck and directed by Jos Thie.
The stage is the palace pond. Yes, that is right, the opera singers and actors were definitely getting their feet wet! I had never seen anything like this before and it is quite clever. A lot of the stage props were hidden under water and suddenly appeared when needed. Very innovative. The performance started at 21:30 and lasted until 23:30. The darkness was also used very effectively and allowed custom stage lighting of the palace building in the background and the trees around the park. They even hired a falconry firm to have birds flying around. Believe me, nothing was left to chance here!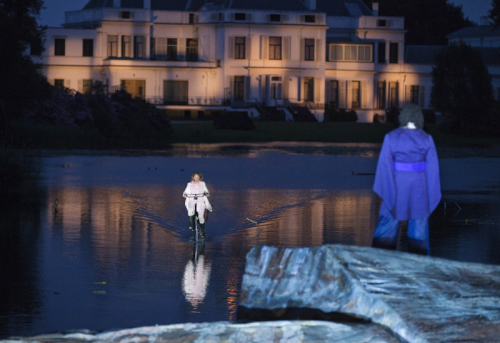 Orfeo ed Euridice at Soestdijk. Photo by Leo van Velzen.
The story follows the well known Greek myth. Orfeo and Euridice are happily married until a fatal snake bite kills Euridice. The opera starts with Orfeo's laments. Amor takes note of Orfeo's beautiful singing and takes pity on Orfeo. Amor proposes a deal. Orfeo is allowed to cross over into the Underworld, find Euridice and take her with him back to earth. There is one condition: he is not to look at her until they reach earth again. So after defying furies who at first do not want to let him in, Orfeo finds his way to the Underworld and locates his wife Euridice. He refuses to look at her and she becomes quite distraught, thinking Orfeo does not love her anymore. At this point they sing a famous duet: "Vieni, appaga il tuo consorte" ("Come, satisfy your husband"). Orefo manages to withstand her for only so long and after a while looks her in the eye. Euridice dies again. Orfeo sings of his grief in the famous aria "Che farò senza Euridice?" ("What shall I do without Euridice?"/"I have lost my Euridice"). Orfeo decides he will kill himself to join Euridice in the Underworld, but Amor returns (on a bike!) to stop him. In reward for Orfeo's continued love, Amor returns Euridice to life, and she and Orfeo are reunited. After a four-movement ballet, all sing in praise of Amor ("Trionfi Amore").
Janne's comment afterwards: why didn't he just say: "Yo, chick, just follow me outta here, can't say why, but I love ya! "