Lyme is a little town in Connecticut, USA. It is the namesake for Lyme disease. In 1975, Allen Steere MD from Yale and formerly the CDC, was called to Lyme when a suspicious number of children and adults were diagnosed with what was thought to be juvenile rheumatoid arthritis. Now juvenile rheumatoid arthritis is by no means contagious, so how come 50+ people got this diagnosis in and around the town of Lyme? After a lot of interviewing, testing and reading about skin rashes as a result of a tick bite in the European research literature, Allan Steere connected the dots and published the first scholarly article on Lyme Disease.
Lyme Disease is now known to be the result of a bite by a tick carrying on of the three species of bacteria belonging to the genus Borrelia. In about 25% of all cases a strange, spreading skin rash (erythema migrans) is seen before any other symptoms occur.
Because the cause is bacterial, the disease can be treated with antibiotics. In fact the recommended protocol in the Netherlands when bitten by a tick is: if skin rash is present, prescribe doxycycline in twice daily doses 100 mg for 10 days, if no skin rash is apparent, do nothing.
In most cases this is adequate. But there are people with persistent symptoms even when treated twice in this manner. They do not get better, in fact they seem to get worse over time. One of these people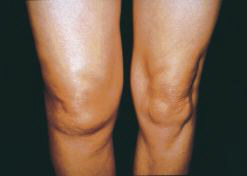 is my wife.
Exactly one year ago my wife went to see her physician with a sore knee and large red rash on the inside of her left knee. The doctor decided to test for Borrelia antibodies using the Western Blot test and to our surprise the test came back partly positive. She did have type IgG antibodies, but not type IgM. When type IgM antibodies are found this indicates an active infection. IgG antibodies are found whenever you have had a Borrelia infection in the past, even if this was years ago. My wife had in fact been bitten by a tick in the past, twice no less. In 2004 and again in 2010. In both cases she went to see her doctor, but since no rash was present in either case, nothing was done. Also after this test result the doctor to our consternation decided to do nothing. My wife did not find this satisfactory at all and asked for a second opinion from a renowned 'Lyme expert', a rheumatologist. This medical expert made a clinical Lyme diagnosis based on three symptoms: the red rash, a positive antibody test and mono-arthritis in the left knee. The treatment was a twice daily dose of 100 mg doxycycline for 30 days. Alas this did not help, and the expert doctor could do no more, because in his words "This has killed all bacteria and should have cured you." But, it didn't.
I will skip almost half a year ahead and at least four more doctors. Among the things we tried: another antibiotic Claritromycine, taken orally for one month, it did not help. Alternative medicine in the form of both light therapy and bio resonance therapy, they did not help at all. An MRI was done and a lumbar puncture, nothing there either. We went to a hospital of tropical diseases to rule out both dengue fever and chikungunya. They were ruled out. The symptoms persisted and in fact got worse and worse. In April my wife could not walk anymore; she limped. Her left knee was so swollen you could not distinguish the kneecap.



She had quit exercising a long time ago: almost a year of no fitness training and no one to two hour walks per week. The result: 5 kg (11 lbs) more wife.
After almost a year we ourselves secured a referral to the Lyme clinic of the Amsterdam University hospital. What a difference! Finally we were seeing doctors who were actually interested, intrigued and inquisitive. They took my wife's symptoms very seriously, and just seemed to want to find out what was going on here! My wife responded to being taken seriously emotionally very positive and I was very pleased to finally meet open minded scientific inquiry without the time constraints of the 10 minute consult. Of course we realized that 'the case of my wife' just fitted their current research interests to a tee. That is what I call a classic win-win.
At first they drew a bit of fluid from inside her knee for testing. After two weeks or so we got the result: the PCR (Polymerase Chain Reaction) test was positive for Borrelia DNA. Now this test is the very same test we have come to know and love from the CSI shows. It basically clones and multiplies DNA a million or more times, so that it can be analyzed by a specialized machine. This test proved that there was Borrelia DNA inside the knee. Based on this test two things were decided: to perform keyhole surgery to take a sample of tissue and look at the inside of the knee and a treatment of a daily dose of a third generation antibiotic (ceftriaxon) intravenously administered for 14 days. The keyhole surgery showed us on a TV monitor that the inside of my wife's knee was badly infected. Instead of smooth surfaces of cartilage we saw a lot of reddish tissue growth that was not supposed to be there. They took out several pieces of this infected tissue for testing and rinsed the inside of the knee. It can take up to six weeks to culture Borrelia in vitro. It is notoriously difficult. If this succeeds it proves beyond a shadow of a doubt that my wife has an active Borrelia infection despite two treatments of the proper antibiotics. This is what most doctors simply do no believe to be possible. We will see, five more weeks to go before this comes to a conclusion. In the meantime my wife takes a daily dose of ceftriaxon antibiotic intravenously every day for an other week (two weeks in total). She has learned to administer this herself; it seems difficult to match the calendar of the home care team to the schedule of a self employed person. So this is where we are now. The good news is that the knee does seem a little better. My wife seems to walk more and limp a little less. Time will tell, and there is hope.
In the course of a year I have read a lot about Lyme. There is a lot of literature out there. It is difficult to separate the useful from the unhelpful. What follows is what I learned so far.

Lets start with the tick. This is really a very simple little animal with a two year life span. The tick is part of the class of Arachnids, so let's say they are little spiders and have eight legs. During the course of their two year life span they eat only three times, mate once (and the females lay eggs) and then die. What is their staple food? Right, the blood of an other living animal or human. All this is simple enough, but they have several really clever tricks up their (eight) sleeves:
- Their saliva contains a powerful anesthetic. So when they bite you, you do not feel the sting and it does not itch.
- Their saliva contains an inflammation inhibitory protein. So this means there is no swelling and no inflammation; your immune system is not alerted to the treat.
- Their saliva also contains a blood thinner to facilitate sucking the blood.
- Last but not least their saliva contains a powerful glue which allows the tick to stay on you for up to five days.
- When the tick is done feasting on your blood it secretes an other chemical which act as a solvent for the glue. So after the glue is dissolved the tick simply drops to the ground.

Please notice there is really no jaw biting action involved here, just superglue.

All this is not too bad at all. A large animal or human is not really hurt at all by the amount of blood drained by a tick. The nasty bit starts when the tick is a carrier for an other organism like a bacteria. This can happen because the tick likes all types of blood: birds, rodents, deer, cattle and humans it feast on all of these without discrimination. So the tick makes blood contact with many different mammals and even reptiles and therefore is an ideal vector for the transmission of diseases across species.
The next big thing is the timing issue. Current medical opinion states that if you remove a tick quickly enough, say within 36 hours, no infection with the Borrelia bacteria will have occurred. This is based on research testing mice in USA. A tick can pick up a Borrelia bacteria when it feasts on the blood of an infected deer or rodent. The bacteria is at this point in the gut of the tick. Only when it next attaches itself to say a host (actually the mice in this experiment) the bacteria will travel from the gut to its salivary glands and from there on into the second host. This takes time. Research in the Russian Federation has shown that different types of Borrelia bacteria take different amounts of time to make this journey. This same Russian research also suggests that the strains of Borrelia bacteria prevalent in Europe and Asia make this journey faster than 36 hours. So this 36 hour respite seems only hopeful for people being bitten by a tick in the USA.
For a long time work done with park rangers in the Netherlands has influenced medical opinion about Lyme disease. In a large study government employed park rangers were tested for the Borrelia infection. These rangers had each removed about 10 ticks from their bodies over the years. The study showed that 15% of all park rangers tested positive for a Borrelia infection. Only 5% of the rangers who tested positive for a Borrelia infection ever developed Lyme disease. Conclusion was the risk of getting Lyme disease is small even for those routinely exposed to ticks. We now know that a specific genetic variation of the immune system is a precondition for actually getting Lyme disease. Only people who have this variation are getting Lyme. So yes, it is rare to get Lyme, but not for the reasons originally thought.
Speaking about genetics. Earlier I mentioned some of the clever tricks the tick has up its sleeve. Well if the tick is clever, the Borrelia bacteria can be called a genius of Total Cellular Warfare. Here's a partial list:
- Borrelia assumes different forms in different hosts. Its DNA encodes survival mechanisms depending on the specific host (deer, human, rodent).
- With more than 1500 gene sequences, Borrelia contains at least 132 functioning genes. Furthermore it contains 21 plasmids. This is by far the largest number of plasmids in any bacteria and it is thought that these plasmid genes provide the ' rapid response' system that allows Borrelia to cycle efficiently between ticks and mammals.
- It has genes that encode for suppression of the immune response of the host
- It mimics the outer skin of specific host cells to fool the immune system into thinking that the bacteria is a native cell.
- It hides itself into places the white blood cells find it hard to reach (joints, eyes, central nervous system)
- It utilizes the native fibrinolytic system to penetrate the blood-brain barrier and thus gain access to the central nerve system
- Borrelia has a slumber feature that allows it to lay dormant when faced with a powerful antibiotic. This can last for several months and the Borrelia wakes up after the threat is gone.

The relevant medical literature calls Borrelia ' a formidable infectious agent'.

Its ability to mimic the outer skin of specific hosts cells may be the underlying cause of the famous 'induced auto immune response'. The immune system of genetically predisposed individuals actually notices the ruse and proceeds to attack these fake hosts cells. Too bad the original host cells are also attacked.
Last night my wife received the last dose of antibiotics. Actually she claims she feels a little better. Next week we have an appointment with the specialist. We will see.